PRESENTATION AND EDUCATION
EDUCATIONAL PRESENTATIONS
*DUE TO COVID RESTRICTIONS WE ARE NOT ALLOWED TO OFFER SHOWS AND PRESENTATIONS THIS YEAR*
Our zoology team is delighted to share its knowledge of our animals. Several educational presentations are offered daily throughout the season.
Presentations include:
Saving cheetahs from extinction

The lions' breakfast

The world of falconry

And many others
See the schedule for a complete list of presentations.
A UNIQUE EXPERIENCE
Face to face with the lions!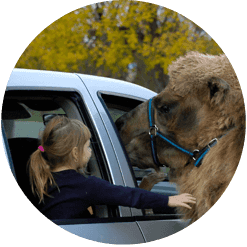 Safari Aventure
The Safari Aventure drive through. The animals are roaming free and will come to see you for a snack. A family adventure that will be remembered. Watch out for the ostriches though!
Please do not give sweet vegetables, like carrots, and fruits to the animals, it causes digestion issues.  Lettuce or celery is best, or the animal food prepared especially for them, available for purchase online and on site.